​We had a last-minute free week since the flu had hit our host near Philidelphia and they had to cancel. So we headed North from Becki's place to hike one of the most well-known sights along the Appalachian Trail, Mcaffee Knob near Roanoke, Virginia. A beautifully sunny day made the four-mile hike to the rocky edge seem like a cinch, the views were mountainous and vast. From there, you could see well into West Virginia.

That night it snowed — FINALLY! Jonathan has been jealous of Nashville's snow fall and was keeping detailed mental notes on how it's circumventing our route. We decided to brave the snow in Cogsworth, our Dodge Caravan (more on that later), to head out in the country to find Polyface Farms. Joel Salatin, the owner, continues a family tradition in not only growing great produce and livestock but also being a steward of the land by enacting practices to make it more sustainable. When we arrived there in Swoope, Virginia, like everyone else, they were taking a snow day.




​We headed east to Washington D.C. and got to see many national monuments, a couple of Smithsonian museums, and the White House. Gina, a friend Brittney had made while working a summer camp for the deaf back in 2013, hosted us and we all got to catch up on each other's lives, hike, and enjoy an evening at a friends dinner party.

We headed an hour north and explored and hiked around the historic town of Harper's Ferry, West Virginia. Jonathan was especially excited about visiting as it is home to the Appalachian Trail Conservancy, the non-profit in charge of maintaining the trail. Harper's Ferry is also a special place because it is at the confluence of the Potomac and Shanandoah Rivers. We hiked to a high point above town and could see the trains moving freight and the waters swirling.

We did not have any further plans, and we thought about going to West Virginia to hike but ended up going to Delaware because neither of us had been before. We didn't know what to expect but saw a great deal of agriculture and swamp land. We played disc golf — one of the ways we get out of the van and run around— in Dover, the capital, and at a state park along the shore of the Atlantic Ocean. We were surprised by the beauty of Delaware's coast, as well as Virginia Beach, where we ate fresh oysters and shrimp.

We had missed out on a hike back in Roan Mountain weeks before because of wildly cold weather, so we decided to go back on the way to East Tennessee. We got to the trailhead where every tree and blade of grass was frosted over. We hiked over three of the seven grassy balds along the Roan Highlands, which is another stellar section along the Appalachian Trail.

After all of the hikes and time in the van, we were more than ready to settle in at our next stay at a friends farm learning how to tap maple trees for syrup.
Powered by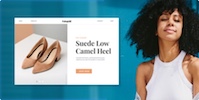 Create your own unique website with customizable templates.